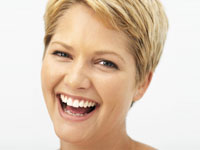 A bright, new confident smile can be one of your best assets. At A.I.R. Dentalplex we offer a wide range of affordable dental makeover options and want to work with you to create the beautiful smile you've always wanted.
Ask us about veneers and teeth whitening and how we can maximize your dental insurance. If you're unhappy with your missing, damaged, stained or broken teeth, we have lots of experience with affordable, high-quality porcelain dental veneers, tooth-colored composite fillings, natural-looking porcelain dental crowns and bridges, tooth whitening and tooth bonding.
Many of our Pittsburgh cosmetic dentistry patients are pleased to learn that the care they deserve may not be as expensive or time-consuming as they imagined. We're happy to schedule appointments at a time that's convenient for you and we have a range of affordable payment options available to fit your budget.
Why wait another moment? It's time to invest in the gorgeous, healthy smile of your dreams. Call us at (412) 931-7900 now or complete our simple online form to schedule a consultation with cosmetic dentist Dr. Brian Borodaty.
Veneers are ultra-thin porcelain shells that fit right over your own teeth. Dr. Borodaty can design them to cover gaps, lengthen stubby teeth, brighten dull or yellow teeth, and cover up chips, cracks, and other imperfections.
Implants are artificial teeth that are permanently anchored into the jaw. Because it's always a perfect fit, implants are almost the same as having your natural teeth back again. To qualify for implants, you'll need healthy oral tissues and jawbone ridges that are in good shape. If you're suffering from tooth loss, Dr. Brian Borodaty can discuss whether dental implants are an option for you.
Porcelain crowns, also called caps, make your smile look naturally white. There are no tell-tale dark areas or lines. They reflect light and brighten your whole mouth. Ask Dr. Borodaty if naturally-colored crowns are right for you.
Dental bonding is a quick, easy way to repair chipped, decayed, or cracked teeth. This painless procedure uses a tooth-colored material that bonds to your teeth with the aid of a special light. Bonding can even help with cosmetic issues such as gaps or discoloration! Ask Dr. Borodaty about all of the ways that bonding can help your smile.
How many people struggle to hide their smiles because old metal fillings are glaringly obtrusive in an otherwise beautiful smile? Dr. Borodaty offers cosmetic dentistry restorative procedures to replace those metal fillings with natural-looking composite fillings. Plus, the non-metal material is less likely to show wear or to cause teeth to erode!
Not when you use Dr. Borodaty's proven tooth whitening treatments! Transform stained, discolored, or aging teeth into a dazzling, youthful, whiter smile after as little as one cosmetic dentistry appointment.